Home
Aug 2, 2017
This week's theme
Places that became verbs
This week's words
birminghamize
barbados
solecize
locarnize
debunk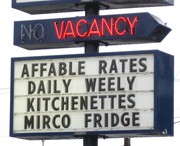 There's always room (for improvement) at the Solecism Inn
---






A.Word.A.Day

with Anu Garg


solecize
PRONUNCIATION:
(SOL-uh-syz)




MEANING:

verb intr.: To make an error in language, etiquette, etc.




ETYMOLOGY:

After Soloi, an ancient Athenian colony in Cilicia, whose dialect the Athenians considered as substandard. Earliest documented use: 1627. The noun form is

solecism




USAGE:

"His prose stops clunking only in order to solecise."
Christopher Bray; Jack Nicholson Deserves a Better Biography Than This; The Daily Beast (New York); Oct 31, 2013.




A THOUGHT FOR TODAY:

Ignorance, allied with power, is the most ferocious enemy justice can have. -James Baldwin, writer (2 Aug 1924-1987)


A.Word.A.Day by email:

Subscribe

"The most welcomed, most enduring piece of daily mass e-mail in cyberspace."