Home
Aug 1, 2017
This week's theme
Places that became verbs
This week's words
birminghamize
barbados
solecize
locarnize
debunk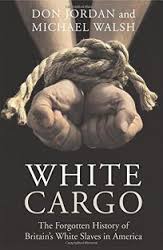 White Cargo
---






A.Word.A.Day

with Anu Garg


Barbados
PRONUNCIATION:
(bar-BAY-doz, -dos, duhs)




MEANING:

verb tr.: To forcibly ship someone to another place to work.




ETYMOLOGY:

After Barbados, an island country in the Caribbean, formerly a British colony. Between 1640 and 1660 thousands of Irish people were sent by the British as indentured servants to work in Barbados and elsewhere in the Caribbean. The name of the island is from Portuguese/Spanish barbados (bearded ones). It's not clear whether this refers to the people, the appearance of the dense vegetation, or something else. Earliest documented use: 1655.




USAGE:

"Good Irish folk kidnapped, Barbadosed, and never heard from again."

Maggie Plummer;

Spirited Away

; CreateSpace; 2012.

See more usage examples of

Barbados

in Vocabulary.com's

dictionary

.




A THOUGHT FOR TODAY:

Of all the preposterous assumptions of humanity over humanity, nothing exceeds most of the criticisms made on the habits of the poor by the well-housed, well-warmed, and well-fed. -Herman Melville, novelist and poet (1 Aug 1819-1891)


A.Word.A.Day by email:

Subscribe

"The most welcomed, most enduring piece of daily mass e-mail in cyberspace."