Home
Aug 3, 2017
This week's theme
Places that became verbs
This week's words
birminghamize
barbados
solecize
locarnize
debunk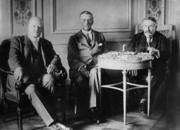 Foreign ministers Gustav Stresemann (Germany), Austen Chamberlain (Britain), and Aristide Briand (France) in Locarno
Photo: Wikipedia Commons
---






A.Word.A.Day

with Anu Garg


locarnize
PRONUNCIATION:
(lo-KAHR-nyz)




MEANING:

verb tr., intr.: To bring about peace or settle a disagreement by negotiation.




ETYMOLOGY:

After Locarno, Switzerland, where in Oct 1925, Germany, France, Belgium, Great Britain, and Italy met to settle post-WWI disputes and concluded the Locarno Treaties. Earliest documented use: 1925.




USAGE:

"Pilsudski ... manifested a repugnance to have the military convention locarnized."
Piotr Stefan Wandycz; The Twilight of French Eastern Alliances, 1926-1936; Princeton University Press; 1988.




A THOUGHT FOR TODAY:

What a child doesn't receive he can seldom later give. -P.D. James, novelist (3 Aug 1920-2014)


A.Word.A.Day by email:

Subscribe

"The most welcomed, most enduring piece of daily mass e-mail in cyberspace."