Home
Oct 3, 2017
This week's theme
Words that sound taboo, but aren't
This week's words
cocksure
pudency
menstruum
titter
cunctative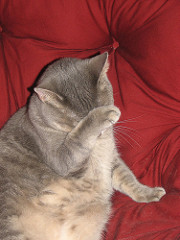 ---






A.Word.A.Day

with Anu Garg


pudency
PRONUNCIATION:
(PYOOD-n-see)




MEANING:

noun: Modesty, bashfulness.




ETYMOLOGY:

From Latin pudentia, from pudere (to make or be ashamed), which also gave us pudendum,

impudent

,

pudibund

(prudish), and

pudeur

(a sense of shame) Earliest documented use: before 1616.




USAGE:

"Levi and Charles were also ashamed, filled 'with a painful sense of pudency'."
Joan Acocella; A Hard Case; The New Yorker; Jun 17, 2002.




A THOUGHT FOR TODAY:

As societies grow decadent, the language grows decadent, too. Words are used to disguise, not to illuminate, action: you liberate a city by destroying it. Words are to confuse, so that at election time people will solemnly vote against their own interests. -Gore Vidal, writer (3 Oct 1925-2012)


A.Word.A.Day by email:

Subscribe

"The most welcomed, most enduring piece of daily mass e-mail in cyberspace."