Home
Oct 6, 2017
This week's theme
Words that sound taboo, but aren't
This week's words
cocksure
pudency
menstruum
titter
cunctative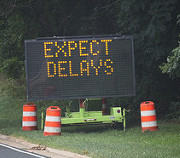 This week's comments
AWADmail 797
Next week's theme
There's a word for it
---






A.Word.A.Day

with Anu Garg


cunctative
PRONUNCIATION:
(KUNGK-tuh-tiv)




MEANING:

adjective: Delaying; slow.




ETYMOLOGY:

From Latin cunctari (to hesitate, delay). Earliest documented use: 1617.




USAGE:

"The cunctative method would be employed to divert any kind of hearing."
Bruce Zortman; Murder Cum Laude; Eloquent Books; 2010.




A THOUGHT FOR TODAY:

It's good to have money and the things that money can buy, but it's good, too, to check up once in a while and make sure that you haven't lost the things that money can't buy. -George H. Lorimer, editor (6 Oct 1867-1937)


A.Word.A.Day by email:

Subscribe

"The most welcomed, most enduring piece of daily mass e-mail in cyberspace."