Home
Dec 9, 2016
This week's theme
Illustrated words
This week's words
succulent
marmorean
afflatus
peregrination
ostentatious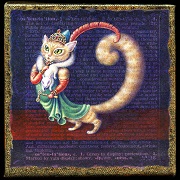 This week's comments
AWADmail 755
Next week's theme
Usage examples from well-known authors
---






A.Word.A.Day

with Anu Garg


ostentatious
PRONUNCIATION:
(os-tuhn-TAY-shus)




MEANING:

adjective: Pretentious or vulgar display in an attempt to impress others.




ETYMOLOGY:

From Latin ostentare (to display), frequentative of ostendere (to show), from ob- (against) + tendere (to stretch). Ultimately from the Indo-European root ten- (to stretch), which is also the source of tense, tenet, tendon, tent, tenor, tender, pretend, extend, tenure, tetanus, hypotenuse,

tenable

,

extenuate

,

countenance

,

tenuous

,

distend

,

pertinacious

, and

detente

. Earliest documented use: 1590.




USAGE:

"Ghe moved ... through an ostentatious arch encased in gold leaf into a spacious cabin, onto the rich carpet."

J. Gregory Keyes;

The Waterborn

; Del Rey; 2015.

See more usage examples of

ostentatious

in Vocabulary.com's

dictionary

.




A THOUGHT FOR TODAY:

Those who put out the people's eyes, reproach them for their blindness. -John Milton, poet (9 Dec 1608-1674)


A.Word.A.Day by email:

Subscribe

"The most welcomed, most enduring piece of daily mass e-mail in cyberspace."