Home
Dec 7, 2016
This week's theme
Illustrated words
This week's words
succulent
marmorean
afflatus
peregrination
ostentatious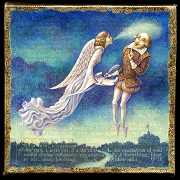 ---






A.Word.A.Day

with Anu Garg


afflatus
PRONUNCIATION:
(uh-FLAY-tuhs)




MEANING:

noun: A creative impulse or inspiration.




ETYMOLOGY:

From Latin afflatus (a breathing on), from ad- (to) + flare (to blow). Ultimately from the Indo-European root bhle- (to blow), which also gave us blow, bladder, blather, blast, flavor, inflate, and flatulence. Earliest documented use: 1649.




USAGE:

"His stories ... are the perennial sources of his creative afflatus."

Shafey Kidwai; The Past Never Died;

The Hindu

(Chennai, India); Feb 12, 2016.

See more usage examples of

afflatus

in Vocabulary.com's

dictionary

.




A THOUGHT FOR TODAY:

Students who acquire large debts putting themselves through school are unlikely to think about changing society. When you trap people in a system of debt, they can't afford the time to think. -Noam Chomsky, linguistics professor and political activist (b. 7 Dec 1928)


A.Word.A.Day by email:

Subscribe

"The most welcomed, most enduring piece of daily mass e-mail in cyberspace."