Home
Dec 6, 2016
This week's theme
Illustrated words
This week's words
succulent
marmorean
afflatus
peregrination
ostentatious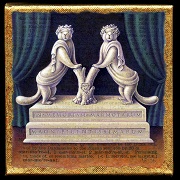 ---






A.Word.A.Day

with Anu Garg


marmorean, also marmoreal
PRONUNCIATION:
(mahr-MOHR-ee-uhn)




MEANING:

adjective: Resembling marble or a marble statue, for example, in smoothness, whiteness, hardness, coldness, or aloofness.




ETYMOLOGY:

From Latin marmor (marble). Earliest documented use: 1656.




USAGE:

"The museum is housed in a large marmorean white building."

William Wilson; Surprising Mix at New Museum;

Los Angeles Times

; Apr 13, 1987.

See more usage examples of

marmorean

in Vocabulary.com's

dictionary

.




A THOUGHT FOR TODAY:

A timid question will always receive a confident answer. -Charles John Darling, lawyer, judge, and politician (6 Dec 1849-1936)


A.Word.A.Day by email:

Subscribe

"The most welcomed, most enduring piece of daily mass e-mail in cyberspace."