Home
Dec 8, 2016
This week's theme
Illustrated words
This week's words
succulent
marmorean
afflatus
peregrination
ostentatious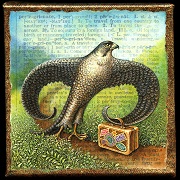 ---






A.Word.A.Day

with Anu Garg


peregrination
PRONUNCIATION:
(per-i-gruh-NAY-shuhn)




MEANING:

noun: Traveling from place to place, also a course of travel, especially on foot.




ETYMOLOGY:

From Latin peregrinari (to travel abroad), from peregrinus (foreign), from peregre (abroad), from per- (through) + ager (field, country). Ultimately from the Indo-European root agro- (field), which is also the source of agriculture, acre, peregrine, pilgrim (a variant of peregrine), and

agrestic

. Earliest documented use: 1475.




USAGE:

"Here's a sample of what I recorded from my peregrinations around society's watering holes last year."

Adam Helliker; The End of the Year Review;

The Express on Sunday

(London, UK); Jan 3, 2016.

See more usage examples of

peregrination

in Vocabulary.com's

dictionary

.




A THOUGHT FOR TODAY:

The real index of civilization is when people are kinder than they need to be. -Louis de Bernieres, novelist (b. 8 Dec 1954)


A.Word.A.Day by email:

Subscribe

"The most welcomed, most enduring piece of daily mass e-mail in cyberspace."