Home
Jul 28, 2017
This week's theme
There's a word for it
This week's words
unitasking
allision
middlescence
yeasayer
longlist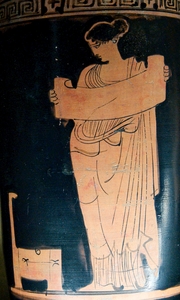 Photo: Wikimedia
This week's comments
AWADmail 787
Next week's theme
Places that became verbs
---






A.Word.A.Day

with Anu Garg


longlist
PRONUNCIATION:
(LONG-list)




MEANING:

noun: A preliminary list of candidates, such as people, places, things, etc. (for a prize, job, etc.), from which a shortlist is compiled.
verb tr.: To place on a longlist.




ETYMOLOGY:

Patterned after the word shortlist. Earliest documented use: 1972 (shortlist is from 1927).




USAGE:

"I've just come from the ceremony where it was announced my recent novelette has been nominated to be nominated to be nominated for the longlist for the Pulitzer Prize."
Matt Potter, et al; Freak; Pure Slush Books; 2016.




A THOUGHT FOR TODAY:

Euphemism is a euphemism for lying. -Bobbie Gentry, singer and songwriter (b. 27 Jul 1944)


A.Word.A.Day by email:

Subscribe

"The most welcomed, most enduring piece of daily mass e-mail in cyberspace."