Home
Jul 25, 2017
This week's theme
There's a word for it
This week's words
unitasking
allision
middlescence
yeasayer
longlist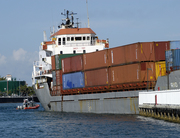 M/V Rio Haina's allision with the breakwall
Miami Beach Marina, Jun 22, 2008
Photo: Wikimedia Commons
---






A.Word.A.Day

with Anu Garg


allision
PRONUNCIATION:
(uh-LIZH-uhn)




MEANING:

noun: The act of a moving object striking against a stationary object.




ETYMOLOGY:

From Latin allidere (to strike against), from ad- (toward) + laedere (to harm). Earliest documented use: 1615 (collision is also from 1615).




NOTES:

In maritime usage, the term allision is used for a vessel striking a fixed object, while collision is between two moving ships. Frequently, the word collision is used in both cases.




USAGE:

"She watched the beam of the flashlight play dully over the surface, and then she heard something, a faint splash, the sweet allision of breaking water."
T.C. Boyle; East Is East; Penguin; 1991.




A THOUGHT FOR TODAY:

Absolute faith corrupts as absolutely as absolute power. -Eric Hoffer, philosopher and author (25 Jul 1902-1983)


A.Word.A.Day by email:

Subscribe

"The most welcomed, most enduring piece of daily mass e-mail in cyberspace."