Home
Apr 24, 2017
This week's theme
Toponyms
This week's words
sybaritic
dalmatic
sardine
frieze
pierian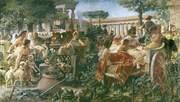 A Pythagorean School Invaded by Sybarites
Art: Michele Tedesco, 1877
---






A.Word.A.Day

with Anu Garg

The novelist Jules Verne sent his characters around the world in 80 days. For 1873, before jumbo jets took over the skies, 80 days isn't bad. Though it would have been more fun to spend a little time exploring.

Well, this week we'll take you on a trip, but instead of whizzing around the world in five days, we'll focus in one area. This week's words are derived from the names of places around the Mediterranean.
sybaritic
PRONUNCIATION:
(sib-uh-RIT-ik)




MEANING:

adjective: Devoted to or relating to luxury and pleasure.




ETYMOLOGY:

After Sybaris, an ancient Greek city in southern Italy noted for its wealth, whose residents were notorious for their love of luxury. Earliest documented use: 1619.




USAGE:

"His father's sybaritic lifestyle ... inspired in Mario a lifelong interest in worldly pleasures."

Mario Reading (obituary);

The Daily Telegraph

(London, UK); Mar 29, 2017.

See more usage examples of

sybaritic

in Vocabulary.com's

dictionary

.




A THOUGHT FOR TODAY:

History is all explained by geography. -Robert Penn Warren, novelist and poet (24 Apr 1905-1989)


A.Word.A.Day by email:

Subscribe

"The most welcomed, most enduring piece of daily mass e-mail in cyberspace."