Home
Apr 28, 2017
This week's theme
Toponyms
This week's words
sybaritic
dalmatic
sardine
frieze
pierian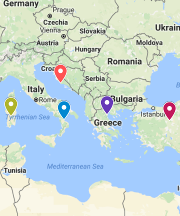 This week's toponyms on a map
Google Maps
This week's comments
AWADmail 774
Next week's theme
Ugly words
---






A.Word.A.Day

with Anu Garg


pierian
PRONUNCIATION:
(py-EER-ee-uhn)




MEANING:

adjective: Relating to learning or poetry.




ETYMOLOGY:

After Pieria, a region in Greece. In Greek mythology, Pieria was home to a spring that was sacred to the Muses and inspired anyone who drank from it. Earliest documented use: 1591.




NOTES:

Alexander Pope in his poem "An Essay on Criticism" (1709) wrote
"A little learning is a dang'rous thing;
Drink deep, or taste not the Pierian spring."




USAGE:

"After I had listed my courses: English, math, and science, he said, 'I see you have begun to drink at the Pierian Spring. In time your appetite will become insatiable.'"
Helen Hickok; Short Stories; Lulu; 2015.




A THOUGHT FOR TODAY:

The one thing that doesn't abide by majority rule is a person's conscience. -Harper Lee, writer (28 Apr 1926-2016)


A.Word.A.Day by email:

Subscribe

"The most welcomed, most enduring piece of daily mass e-mail in cyberspace."