Home
Apr 25, 2017
This week's theme
Toponyms
This week's words
sybaritic
dalmatic
sardine
frieze
pierian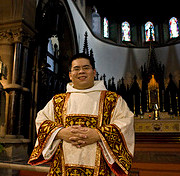 ---






A.Word.A.Day

with Anu Garg


dalmatic
PRONUNCIATION:
(dal-MAT-ik)




MEANING:

noun: A loose, wide-sleeved outer garment worn by some monarchs at their coronations and by deacons, bishops, etc. in some churches.




ETYMOLOGY:

From Old French dalmatique, from Latin dalmatica vestis (Dalmatian garment) since these garments were originally made of Dalmatian wool. Dalmatia is a region along the Adriatic coast of Croatia. That's also where Dalmatian dogs got their name from. Earliest documented use: 1425.




USAGE:

"He loved to kneel down on the cold marble pavement and watch the priest, in his stiff flowered dalmatic."
Oscar Wilde; The Picture of Dorian Gray; 1891.




A THOUGHT FOR TODAY:

No one can terrorize a whole nation, unless we are all his accomplices. -Edward R. Murrow, journalist (25 Apr 1908-1965)


A.Word.A.Day by email:

Subscribe

"The most welcomed, most enduring piece of daily mass e-mail in cyberspace."