Home
Apr 26, 2017
This week's theme
Toponyms
This week's words
sybaritic
dalmatic
sardine
frieze
pierian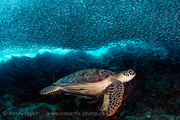 A turtle swims below a school of sardines in Moalboal, Philippines
---






A.Word.A.Day

with Anu Garg


sardine
PRONUNCIATION:
(sahr-DEEN)




MEANING:

verb tr.: To pack tightly.




ETYMOLOGY:

The verb form developed from the tight packing of the sardine in cans. From French sardine, from Latin sardina, from Greek Sardo (Sardinia). Earliest documented use: 1895.




USAGE:

"Families of a dozen or more sardined themselves into buzzing, bumblebee-colored auto rickshaws designed for two passengers."

Robert Kunzig; Seven Billion;

National Geographic

(Washington, DC); Jan 2011.

See more usage examples of

sardine

in Vocabulary.com's

dictionary

.




A THOUGHT FOR TODAY:

Oh, the comfort -- the inexpressible comfort of feeling safe with a person -- having neither to weigh thoughts nor measure words, but pouring them all right out, just as they are, chaff and grain together, certain that a faithful hand will take and sift them, keep what is worth keeping, and with the breath of kindness blow the rest away. -Dinah Maria Mulock Craik, poet and novelist (26 Apr 1826-1887)


A.Word.A.Day by email:

Subscribe

"The most welcomed, most enduring piece of daily mass e-mail in cyberspace."