Jun 23, 2020
This week's theme
Words coined after metals
This week's words
golden calf
silver spoon
tinhorn
brass tacks
ironclad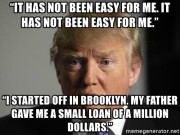 "It has not been easy for me. It has not been easy for me. I started off in Brooklyn. My father gave me a small loan of a million dollars." -Trump (Oct 26, 2015)
---






The phrase is often used in the construction "to be born with a silver spoon in one's mouth" meaning one's born in privilege and wealth. The association of silver with riches is obvious, so why not a gold spoon? Nobody knows, though it may have something to do with silver's
biocidal properties
. Earliest documented use: 1719.
"'We started this with a base of knowledge on the wine business, not with a silver spoon or a bunch of money that we made in Silicon Valley,' she said."
Bill Swindell; North Coast Wineries Fight for Survival Amid the Coronavirus Pandemic;
The Press Democrat
(Santa Rosa, California); May 31, 2020.
See more usage examples of
silver spoon
in Vocabulary.com's
dictionary
.