Home
Aug 15, 2017
This week's theme
Words from animals
This week's words
dog days
lionize
chicken hawk
blackbird
spread-eagle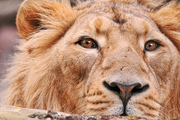 Lion eyes
---






A.Word.A.Day

with Anu Garg


lionize
PRONUNCIATION:
(LY-uh-nyz)




MEANING:

verb tr.: To view or treat someone as an object of great importance.




ETYMOLOGY:

From the view of the lion as the king of animals. From Anglo-French liun, from Latin leo, from Greek leon. From Earliest documented use: 1825.




USAGE:

"He had studied and lionized people with money, power, celebrity, and status: politicians, CEOs, financial movers and shakers."

JL Daniels;

Mirror Opposites

; AuthorHouse; 2014.

See more usage examples of

lionize

in Vocabulary.com's

dictionary

.




A THOUGHT FOR TODAY:

O, what a tangled web we weave, / When first we practise to deceive! -Walter Scott, novelist and poet (15 Aug 1771-1832)


A.Word.A.Day by email:

Subscribe

"The most welcomed, most enduring piece of daily mass e-mail in cyberspace."