Home
Sep 15, 2017
This week's theme
There's a word for it
This week's words
whataboutery
mythomania
tenesmus
xenophobia
kayfabe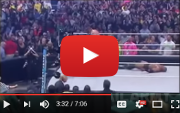 Donald Trump at Wrestlemania XXIII (4 min., but you don't need to watch it)
This week's comments
AWADmail 794
Next week's theme
Words that result in another word when a single letter is prefixed
---






A.Word.A.Day

with Anu Garg


kayfabe
PRONUNCIATION:
(KAY-fayb)




MEANING:

noun: Portrayal of staged events as real, especially in professional wrestling. (See also, "reality shows")




ETYMOLOGY:

Of uncertain origin, perhaps Pig Latin or an alteration for "fake" or "be fake". Earliest documented use: 1937.




USAGE:

"With time and practice, you will learn how to maintain kayfabe in moments like these."
Angelina Mirabella; The Sweetheart; Simon & Schuster; 2016.




A THOUGHT FOR TODAY:

We would often be ashamed of our finest actions if the world understood all the motives which produced them. -Francois, Duc de La Rochefoucauld, writer (15 Sep 1613-1680)


A.Word.A.Day by email:

Subscribe

"The most welcomed, most enduring piece of daily mass e-mail in cyberspace."