Home
Aug 15, 2016
This week's theme
Words related to food
This week's words
jambalaya
farraginous
kool-aid
ragout
immolate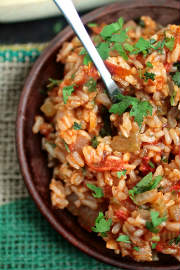 Spicy Vegan Jambalaya
---






A.Word.A.Day

with Anu Garg

The novelist Franz Kafka once said, "So long as you have food in your mouth, you have solved all questions for the time being." Add a Disneyland, and you may solve all questions for all time. At least, for some people. This week we'll see five words having food related origins, though the connection may not always be obvious. We'll serve a full course including drinks (we have already served salad last week.
jambalaya
PRONUNCIATION:
(juhm-buh-LY-uh)




MEANING:

noun:
1. A dish made of rice, herbs, spices, vegetables, and meat.
2. A heterogeneous mixture.




ETYMOLOGY:

From Louisiana French, from Provençal jambalaia. Earliest documented use: 1872.




USAGE:

"Troopers represented a jambalaya of race and ethnicity."

Sylvia Madsen;

The Drunkard's Path

; Etopia Press; 2012.

See more usage examples of

jambalaya

in Vocabulary.com's

dictionary

.




A THOUGHT FOR TODAY:

There is no human being who, as a result of desiring to build a better life, should be named or declared illegal. -Alejandro G. Iñárritu, film director, producer, screenwriter, and composer (b. 15 Aug 1963)


A.Word.A.Day by email:

Subscribe

"The most welcomed, most enduring piece of daily mass e-mail in cyberspace."