Home
Aug 18, 2016
This week's theme
Words related to food
This week's words
jambalaya
farraginous
kool-aid
ragout
immolate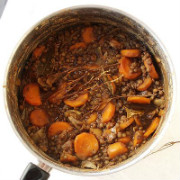 Ragout with lentils
Photo: Zantastik/Wikimedia
---






A.Word.A.Day

with Anu Garg


ragout
PRONUNCIATION:
(ra-GOO)




MEANING:

noun
1. A highly seasoned stew of meat, vegetables, etc.
2. A mixture of disparate elements.




ETYMOLOGY:

From French ragoût, from ragouter (to revive the taste), from re- (again) + a-/ad (to) + gout (taste), from Latin gustus (taste). Ultimately from the Indo-European root geus- (to taste or choose), which also gave us choice, choose, gusto, disgust,

degust

, and

pregustator

. Earliest documented use: 1652.




USAGE:

"Opera ... sensual pleasures celebrated in its rich ragout of music, emotion, and stagecraft."

Daniel J. Wakin; Don't Sing With Your Mouth Full;

The New York Times

; May 7, 2012.

See more usage examples of

ragout

in Vocabulary.com's

dictionary

.




A THOUGHT FOR TODAY:

A good storyteller is the conscience-keeper of a nation. -Sunjoy Shekhar, writer and editor (b. Aug 12 1969)


A.Word.A.Day by email:

Subscribe

"The most welcomed, most enduring piece of daily mass e-mail in cyberspace."