Home
Aug 16, 2016
This week's theme
Words related to food
This week's words
jambalaya
farraginous
kool-aid
ragout
immolate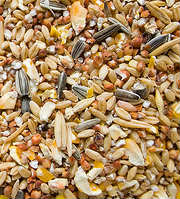 ---






A.Word.A.Day

with Anu Garg


farraginous
PRONUNCIATION:
(fuh-RAJ-uh-nuhs)




MEANING:

adjective: Heterogeneous; having a mix of random things.




ETYMOLOGY:

From Latin farrago (mixed fodder), from far/farr (corn or spelt). Ultimately from the Indo-European root bhares- (barley), which also gave us barn, barley, farina, and

farrago

. Earliest documented use: 1616.




USAGE:

"If at first glance the visitor mistakes this farraginous exhibition for a Royal Antiques Roadshow, he is not far from the truth."
Brian Sewell; All the Charm of an Antiques Roadshow; Evening Standard (London, UK); Mar 14, 2013.




A THOUGHT FOR TODAY:

It is fortunate to be of high birth, but it is no less so to be of such character that people do not care to know whether you are or are not. -Jean de la Bruyere, essayist and moralist (16 Aug 1645-1696)


A.Word.A.Day by email:

Subscribe

"The most welcomed, most enduring piece of daily mass e-mail in cyberspace."