Home
Mar 6, 2023
This week's theme
Unusual synonyms
This week's words
interpunction
exuviate
cyesis
cogitate
blatteroon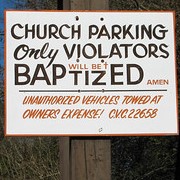 Church parking
Only violators will be Baptized.
Previous week's theme
Nouns that are also verbs
---






A.Word.A.Day

with Anu Garg

What does a Tyrannosaurus eat for breakfast? I don't know, but I do know what a Thesaurus likes. Synonym Toast Crunch.

And that's what we are serving this week. Some crunchy synonyms. What's a synonym for the word love? You may be able to give one or more synonyms for "love" and other words, but chances are you have never thought about a synonym for the word punctuation.

This week we'll fill this and other deep chasms in your verbal repertoire with uncommon synonyms.
interpunction
PRONUNCIATION:
(in-tuhr-PUNGK-shuhn)




MEANING:

noun:
1. Punctuation.
2. A punctuation mark.
3. The insertion of punctuation marks in a text.




ETYMOLOGY:

From Latin inter- (between) + punctum (dot, point). Earliest documented use: 1617.




USAGE:

"In one continuous plethoric outburst, uninterrupted of course by any form of interpunction, he expresses the universally present yet ever unsatisfiable desire for wholeness."
Martinus Arnoud Bakker; Book Review; World Literature Today (Norman, Oklahoma); Winter 1994.

"Our life is full of interpunctions, or commas; death is but the period or full point."
Thomas Jackson; Maran Atha; A. Maxey; 1657.




A THOUGHT FOR TODAY:

Beauty is the purgation of superfluities. -Michelangelo Buonarroti, sculptor, painter, architect, and poet (6 Mar 1475-1564)


We need your help

Help us continue to spread the magic of words to readers everywhere

Donate