Home
Nov 7, 2022
This week's theme
Postpositives
This week's words
incarnate
unplugged
a gogo
presumptive
at large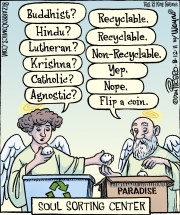 Previous week's theme
Abbreviations, acronyms, and blends
---






A.Word.A.Day

with Anu Garg

What does God almighty have in common with Devil incarnate?

Here's a hint: it's what Alcoholics Anonymous has in common with Virgin Mobile.

All these terms use the adjective postpositively, that is, placed after the noun. Postpositive adjectives are more common in some languages, such as French, but they occur in English as well. This week we'll see five of them.

Just because something is not as common does not mean it's wrong. Please respect the orientation of this week's adjectives: they were born to go behind the noun, though some are bitextual and can take any position.

Sing the body electric and trip the light fantastic! Live and let live.
incarnate
PRONUNCIATION:
(adj: in-KAHR-nuht/nit/nayt, verb: in-KAHR-nayt)

MEANING:
| | |
| --- | --- |
| adjective: | 1. Embodied in flesh. |
| | 2. Personified. |
| | 3. Flesh-colored; blood red.. |
| verb tr.: | 1. To give bodily form to. |
| | 2. To make real; to actualize. |
| | 3. To personify. |



ETYMOLOGY:

From Latin incarnare (to make into flesh), from Latin caro (flesh). Ultimately from the Indo-European root sker- (to cut), which also gave us skirt, curt, screw, shard, shears, carnage, carnivorous, carnation, sharp, scrape, and

incarnadine

. Earliest documented use: 1395. A related word is

avatar

.




USAGE:

"Now we have this little boy who's just light and joy incarnate."

Kara Baskin; Foster Care, Fleeting Custody, Enduring Love;

Boston Globe

(Massachusetts); Apr 15, 2022.

"This woman was poetry incarnate! She was pity incarnate! She was passion incarnate!"

Joseph Hocking;

The Everlasting Arms

; Hodder & Stoughton; 1919.

See more usage examples of

incarnate

in Vocabulary.com's

dictionary

.




A THOUGHT FOR TODAY:

Autumn is a second spring when every leaf is a flower. -Albert Camus, writer and philosopher (7 Nov 1913-1960)


We need your help

Help us continue to spread the magic of words to readers everywhere

Donate