Home
Dec 2, 2019
This week's theme
Illustrated words
This week's words
fulgor
inquiline
jouissance
worricow
hyaloid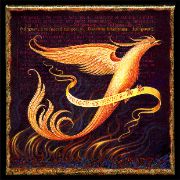 Previous week's theme
Words related to weapons
---






A.Word.A.Day

with Anu Garg

Earlier this year I gave the artist Leah Palmer Preiss (curiouser at mindspring.com) five words and then I waited until this week.

It was worth the wait.

You'll see why. Leah took each word and turned it into a delightful out-of-this-world illustration. They say a picture is worth a thousand words and it's true. Sometimes a picture is worth just one word and that's enough.

Now, after this week if you can't wait till next year, check out her illustrations from previous years here. Find more of her magical art on her website.
fulgor or fulgour
PRONUNCIATION:
(FUHL-guhr))




MEANING:

noun: Splendor; brightness.




ETYMOLOGY:

From Latin fulgor (brightness), from fulgere (to shine). Ultimately from the Indo-European root bhel- (to shine or burn), which also gave us blaze, blank, blond, bleach, blanket, flame,

refulgent

,

fulminate

, and

effulgent

. Earliest documented use: 1600.




USAGE:

"Red Sea under a serene sky, under a sky scorching and unclouded, enveloped in a fulgor of sunshine."
Joseph Conrad; Lord Jim; Blackwood's Magazine; 1900.




A THOUGHT FOR TODAY:

The question is whether or not you choose to disturb the world around you, or if you choose to let it go on as if you had never arrived. -Ann Patchett, writer (b. 2 Dec 1963)


We need your help

Help us continue to spread the magic of words to readers everywhere

Donate