Home
Nov 27, 2017
This week's theme
Toponyms
This week's words
faience
laconic
newgate
timbuktu
campanile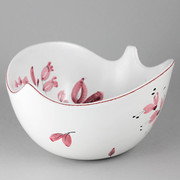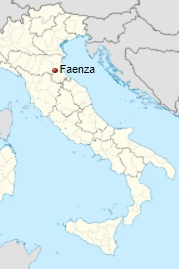 Faenza, Italy
Map: Wikimedia
---






A.Word.A.Day

with Anu Garg

It's time to get real.

A couple of weeks ago we visited five fictional places and now it's time to get back to reality. This week we'll feature five toponyms (words derived from names of places).

We start in Italy, make our way to Greece, the UK, and Mali, then end up back in Italy.
faience
PRONUNCIATION:
(fay-AHNS, fy-)




MEANING:

noun: Glazed earthenware, especially decorated tin-glazed pottery.




ETYMOLOGY:

From French faïence (earthenware), from Faïence, the French name for Faenza, a city in northern Italy known for its glazed earthenware industry. Earliest documented use: 1714.




USAGE:

"'Don't wave it around in that theatrical fashion,' Emerson said coolly. 'It is faience, and will break if you drop it.'"

Elizabeth Peters;

Deeds of the Disturber

; Atheneum; 1988.

See more usage examples of

faience

in Vocabulary.com's

dictionary

.




A THOUGHT FOR TODAY:

When the power of love overcomes the love of power the world will know peace. -Jimi Hendrix, musician, singer, and songwriter (27 Nov 1942-1970)


We need your help

Help us continue to spread the magic of words to readers everywhere

Donate