Home
Dec 31, 2018
This week's theme
Words to describe people
This week's words
fabulist
numpty
rentier
fink
swellhead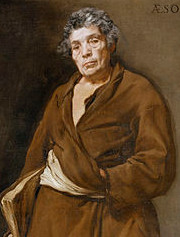 Aesop (fabulist, def. 1)
Art: Velázquez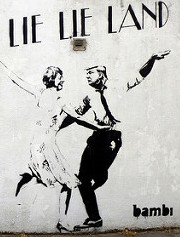 Trump (fabulist, def. 2)
---






A.Word.A.Day

with Anu Garg

The novelist Rex Stout once said, "Labels are for the things men make, not for men. The most primitive man is too complex to be labeled."

While Stout's statement has merit, we have no option but to label. It's somewhat like standardized tests. You can't sum up a person's aptitude and knowledge and potential in a single numerical score, but with so much variation in grading, this number serves its limited purpose in academic testing.

This week we feature nouns to describe people. While a single label may not completely describe a person, the good thing with words is that you can mix and match them. So a person can be a fabulist and a president, for example.
fabulist
PRONUNCIATION:
(FA-byuh-list)




MEANING:

noun:
1. A writer or teller of fables.
2. A liar.




ETYMOLOGY:

From French fabuliste, from Latin fabula (talk, tale, legend), from fari (to speak). Earliest documented use: 1593.




USAGE:

"Florida political truisms have turned downright

mendacious

in 2018. Especially for Republicans, where candidates feel compelled to cozy up to the erratic fabulist occupying the White House; you know, the 'stable genius' who spent last week walking back walk-backs (Not, as it might sound, the latest dance craze)."

Fred Grimm; Putnam Faces Roiling Winds of Florida Politics;

South Florida Sun-Sentinel

(Fort Lauderdale); Jul 22, 2018.

See more usage examples of

fabulist

in Vocabulary.com's

dictionary

.




A THOUGHT FOR TODAY:

The only way human beings can win a war is to prevent it. -George Marshall, US Army Chief, Secretary of State, Secretary of Defense, Nobel laureate (31 Dec 1880-1959)


We need your help

Help us continue to spread the magic of words to readers everywhere

Donate