Home
Sep 1, 2017
This week's theme
Linked words
This week's words
gung ho
ho-hum
humbug
bugbear
bear leader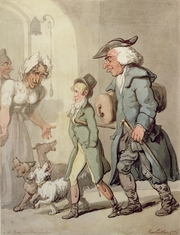 The Bear and Bear Leader - Passing the Hotel D'Angleterre, 1776
Art: Thomas Rowlandson
This week's comments
AWADmail 792
Next week's theme
Terms from ball games
---






A.Word.A.Day

with Anu Garg


bear leader
PRONUNCIATION:
(bair LEED-uhr)




MEANING:

noun: A tutor who travels with a young man.




ETYMOLOGY:

From allusion to a literal bear leader, a man who led a muzzled bear from place to place to perform in the streets. Earliest documented use: 1749.




USAGE:

"The description of the relation between the bear leader and his protege is quite entertaining."

Giovanna Summerfield and Lisa Downward;

New Perspectives on the European Bildungsroman

; Continuum; 2010.




A THOUGHT FOR TODAY:

It seems like the less a statesman amounts to, the more he adores the flag. -Kin Hubbard, humorist (1 Sep 1868-1930)


A.Word.A.Day by email:

Subscribe

"The most welcomed, most enduring piece of daily mass e-mail in cyberspace."