Home
Feb 14, 2022
This week's theme
Mythological characters who have resulted in multiple eponyms
This week's words
aphrodite
titanism
boreal
vulcanize
gorgonize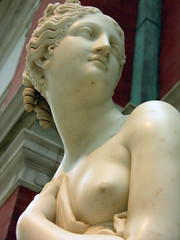 Sculpture: Antonio Canova, c. 1822-23
Previous week's theme
There's a word for it
---






A.Word.A.Day

with Anu Garg

A word coined after a person is known as an eponym, from Greek epi- (upon) + -onym (name). It's extremely rare to have a word coined after a person to take root in the language -- one has to have done something extraordinary, either good or bad. For example, Socrates has given us the terms Socratic method and Socratic irony.

Fictional characters are not behind. Multiple eponyms happen with them too. This week we'll meet five mythological characters and see an eponym coined after each.

Next month, we'll revisit each of the five and see another eponym coined after them.
aphrodite
PRONUNCIATION:
(af-ruh-DY-tee)




MEANING:

noun: A beautiful woman.




ETYMOLOGY:

After Aphrodite, the Greek goddess of love and beauty. Her Roman equivalent is Venus. Earliest documented use: 1658.




USAGE:

"An aphrodite doesn't use her skill for unfair gain. It has therapeutic applications."

Poul Anderson;

The Rebel Worlds

; New American Library; 1969.

See more usage examples of

aphrodite

in Vocabulary.com's

dictionary

.




A THOUGHT FOR TODAY:

For one human being to love another: that is perhaps the most difficult of all our tasks, the ultimate, the last test and proof, the work for which all other work is but preparation. -Rainer Maria Rilke, poet and novelist (4 Dec 1875-1926)


We need your help

Help us continue to spread the magic of words to readers everywhere

Donate