Home
Apr 19, 2016
This week's theme
Words coined by Lewis Carroll
This week's words
galumph
slithy
chortle
bandersnatch
frabjous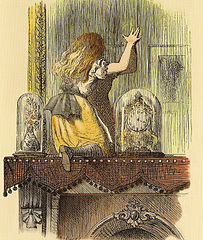 Alice through the looking glass
Art: John Tenniel, 1871
---






A.Word.A.Day

with Anu Garg


slithy
PRONUNCIATION:
(SLY-thee)




MEANING:

adjective: Smooth and active; slimy; slithery.




ETYMOLOGY:

Coined by Lewis Carroll in his 1871 novel Through the Looking-Glass. A blend of slimy + lithe.




USAGE:

"He's still inclined to take the law into his own hands when it needs to be taken -- in this case, against a couple of slithy loan sharks."
Pick of the Day; The Times (London, UK); May 9, 2015.




A THOUGHT FOR TODAY:

Adding manpower to a late software project makes it later. -Fred Brooks, computer scientist (b. 19 Apr 1931)


A.Word.A.Day by email:

Subscribe

"The most welcomed, most enduring piece of daily mass e-mail in cyberspace."