Home
Apr 22, 2016
This week's theme
Words coined by Lewis Carroll
This week's words
galumph
slithy
chortle
bandersnatch
frabjous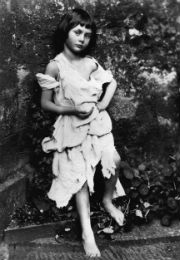 Alice Liddell, inspiration behind Alice's Adventures in Wonderland & Through the Looking-Glass, dressed up as a beggar-maid from the story of Cophetua
Photo: Lewis Carroll, 1858
This week's comments
AWADmail 721
Next week's theme
Words to describe people
---






A.Word.A.Day

with Anu Garg


frabjous
PRONUNCIATION:
(FRAB-juhs)




MEANING:

adjective: Wonderful; delightful.




ETYMOLOGY:

Coined by Lewis Carroll in his 1871 novel

Through the Looking-Glass

. A blend of fair, fabulous, and joyous. See the text of the poem

Jabberwocky

.




USAGE:

"In a happy development for couch potatoes everywhere, Netflix last week announced a partnership with Epix entertainment channel. This is frabjous news."
Monica Hesse; For Fans of Truly Bad Movies; The Washington Post; Aug 20, 2010.




A THOUGHT FOR TODAY:

Do not commit the error, common among the young, of assuming that if you cannot save the whole of mankind, you have failed. -Jan de Hartog, playwright and novelist (22 Apr 1914-2002)


A.Word.A.Day by email:

Subscribe

"The most welcomed, most enduring piece of daily mass e-mail in cyberspace."