Home
Apr 21, 2016
This week's theme
Words coined by Lewis Carroll
This week's words
galumph
slithy
chortle
bandersnatch
frabjous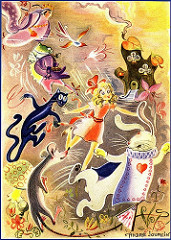 Art: André Jourcin, 1948
---






A.Word.A.Day

with Anu Garg


bandersnatch
PRONUNCIATION:
(BAN-duhr-snach)




MEANING:

noun: 1. A fast and ferocious wild creature. 2. An uncouth or bizarre person.




ETYMOLOGY:

Coined by Lewis Carroll in his 1871 novel Through the Looking-Glass. The name of a fictional creature.




USAGE:

"A momma-bear-sized bandersnatch was lumbering toward them, drool oozing out of her spiky-toothed jaw."
Shannon Hale; Ever After High; Little, Brown; 2014.




A THOUGHT FOR TODAY:

As scarce as truth is, the supply has always been in excess of the demand. -Josh Billings, columnist and humorist (21 Apr 1818-1885)


A.Word.A.Day by email:

Subscribe

"The most welcomed, most enduring piece of daily mass e-mail in cyberspace."