Home
Mar 18, 2015
This week's theme
Words with all the vowels
This week's words
abstentious
arterious
placentious
aerious
duoliteral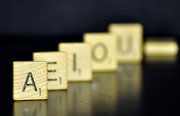 On your calendar
Get A.Word.A.Day on your calendar
---






A.Word.A.Day

with Anu Garg


placentious
PRONUNCIATION:
(pla-SEN-shus)




MEANING:

adjective: Pleasing or inclined to please.




ETYMOLOGY:

From Latin placentia (pleasantness), from placere (to please). Earliest documented use: 1661.




USAGE:

"[John Walbye was] a placentious person, gaining the good-will of all with whom he conversed, being also ingenious, industrious, learned, eloquent, pious, and prudent."
Thomas Fuller; The History of the Worthies of England; T. Tegg; 1840.




A THOUGHT FOR TODAY:

Smaller than a breadbox, bigger than a TV remote, the average book fits into the human hand with a seductive nestling, a kiss of texture, whether of cover cloth, glazed jacket, or flexible paperback. -John Updike, writer (18 Mar 1932-2009)


A.Word.A.Day by email:

Subscribe

"The most welcomed, most enduring piece of daily mass e-mail in cyberspace."