Home
Mar 20, 2015
This week's theme
Words with all the vowels
This week's words
abstentious
arterious
placentious
aerious
duoliteral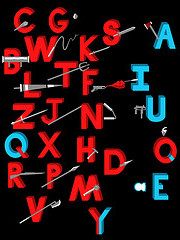 Alphabet War: Vowels vs Consonants
This week's comments
AWADmail 664
Next week's theme
Unusual synonyms
---






A.Word.A.Day

with Anu Garg


duoliteral
PRONUNCIATION:
(doo-uh-LIT-uhr-uhl)




MEANING:

adjective: Having two letters.




ETYMOLOGY:

From Latin duo (two), from Greek duo + littera (letter). Earliest documented use: 1828.




USAGE:

"The teacher will then proceed with another letter in a similar manner, taking one that, with the preceding, will make a duoliteral word."
Charles Northend; The Teacher's Assistant; Crosby, Nichols, and Co.; 1859.




A THOUGHT FOR TODAY:

We live in a world in which we need to share responsibility. It's easy to say "It's not my child, not my community, not my world, not my problem." Then there are those who see the need and respond. I consider those people my heroes. -Fred Rogers, television host, songwriter, and author (20 Mar 1928-2003)


A.Word.A.Day by email:

Subscribe

"The most welcomed, most enduring piece of daily mass e-mail in cyberspace."