Home
Mar 19, 2015
This week's theme
Words with all the vowels
This week's words
abstentious
arterious
placentious
aerious
duoliteral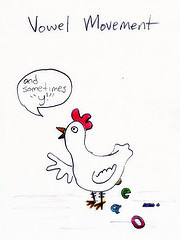 Vowel Movement
---






A.Word.A.Day

with Anu Garg


aerious
PRONUNCIATION:
(AY-ree-uhs)




MEANING:

adjective: Of or like air; airy.




ETYMOLOGY:

From Latin aereus/aerius, adjectival form of aer (air). Earliest documented use: 1594.




USAGE:

"It is a feature of this philosophy that all mixed bodies contain a spirit of an aerious, aetherial, or luminous nature."
Michael Hunter; Robert Boyle Reconsidered; Cambridge University Press; 2003.




A THOUGHT FOR TODAY:

It's best to give while your hand is still warm. -Philip Roth, novelist (b. 19 Mar 1933)


A.Word.A.Day by email:

Subscribe

"The most welcomed, most enduring piece of daily mass e-mail in cyberspace."