Home
Nov 5, 2015
This week's theme
Unusual synonyms for everyday acts
This week's words
sternutate
eruct
flatulate
ingurgitate
nictitate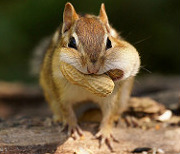 ---






A.Word.A.Day

with Anu Garg


ingurgitate
PRONUNCIATION:
(in-GUHR-ji-tayt)




MEANING:

verb tr.: To swallow greedily or in large amounts.




ETYMOLOGY:

From Latin gurgitare (to flood), from gurges (whirlpool). Earliest documented use: 1570.




USAGE:

"Jeremy finally settled down and went back to ingurgitating potato chips."

Gord Elliston;

The Seagull Wore Glasses

; Lulu Press; 2014.

See more usage examples of

ingurgitate

in Vocabulary.com's

dictionary

.




A THOUGHT FOR TODAY:

Do you wish the world were happy? / Then remember day by day, / Just to scatter seeds of kindness / As you pass along the way. -Ella Wheeler Wilcox, poet (5 Nov 1850-1919)


A.Word.A.Day by email:

Subscribe

"The most welcomed, most enduring piece of daily mass e-mail in cyberspace."