Home
Nov 4, 2015
This week's theme
Unusual synonyms for everyday acts
This week's words
sternutate
eruct
flatulate
ingurgitate
nictitate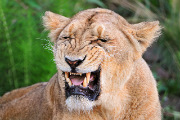 Did someone flatulate?
---






A.Word.A.Day

with Anu Garg


flatulate
PRONUNCIATION:
(FLACH-uh-layt)




MEANING:

verb intr.: To pass intestinal gas from the anus.




ETYMOLOGY:

From Latin flare (to blow). Earliest documented use: 1805.




USAGE:

"Greg writes: I think that a gentleman should never flatulate in front of his lady. But my girlfriend believes it is a showing of trust and affection."
John Hodgman; The One-Page Magazine; The New York Times Magazine; Apr 28, 2013.




A THOUGHT FOR TODAY:

Too many people spend money they haven't earned, to buy things they don't want, to impress people they don't like. -Will Rogers, humorist (4 Nov 1879-1935)


A.Word.A.Day by email:

Subscribe

"The most welcomed, most enduring piece of daily mass e-mail in cyberspace."