Home
Nov 3, 2015
This week's theme
Unusual synonyms for everyday acts
This week's words
sternutate
eruct
flatulate
ingurgitate
nictitate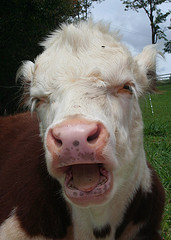 ---






A.Word.A.Day

with Anu Garg


eruct
PRONUNCIATION:
(i-RUKT)




MEANING:

verb tr., intr.:
1. To belch: to expel gases from the stomach through the mouth.
2. To emit violently, fumes from a volcano, for example.




ETYMOLOGY:

From Latin eructare (to vomit, belch, discharge). Ultimately from the Indo-European root reug- (to vomit, to belch, smoke, cloud), which also gave us reek and German rauchen (to smoke). Earliest documented use: 1666.




USAGE:

"When cars behind start flashing and beeping, and he realises that we're eructing huge clouds of choking black smoke as we chug and jerk along, we are forced to pull over."

Lucy Caldwell;

The Story So Far...

; The Independent (London, UK); May 29, 2007.

See more usage examples of

eruct

in Vocabulary.com's

dictionary

.




A THOUGHT FOR TODAY:

This is the devilish thing about foreign affairs: they are foreign and will not always conform to our whim. -James Reston, journalist (3 Nov 1909-1995)


A.Word.A.Day by email:

Subscribe

"The most welcomed, most enduring piece of daily mass e-mail in cyberspace."