Home
Jul 24, 2023
This week's theme
Words from religion
This week's words
gospel
messiah
apocalypse
exodus
crusade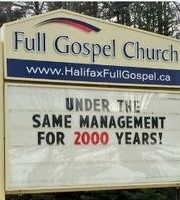 Previous week's theme
Words derived from body parts
---






A.Word.A.Day

with Anu Garg

The poet Ella Wheeler Wilcox (1850-1919) once wrote:



So many gods, so many creeds,
So many paths that wind and wind,
While just the art of being kind
Is all the sad world needs.


There are literally thousands of religions around. To each his own. Do your duty the best you can and don't hurt anyone -- that's my religion.

Wilcox further wrote:



I am the voice of the voiceless;
Through me the dumb shall speak,
Till the deaf world's ear be made to hear
The wrongs of the wordless weak.


Speaking for the powerless, with each verse one has to love the poet more and more. We do speak out, and while we can't fix everything in this world, we do our best not to leave you wordless. This week we'll feature five words having origins in religion.

What are your thoughts about religion? Share below or email us at words@wordsmith.org. Include your location (city, state).
gospel
PRONUNCIATION:
(GOS-puhl)




MEANING:

noun:
1. Message, teachings, or principles of a person or organization.
2. Something regarded as authoritative or infallible, especially when believed unquestionably.




ETYMOLOGY:

From Old English gōdspel, from gōd (good) + spell (tale, news). Earliest documented use: 950.




NOTES:

Is God good? We won't comment on that, but in gospel, it's a mistaken assumption, literally speaking. In Old English gōdspel, the word gōd (with a long o) meaning "good" changed to "god" with the erroneous assumption that godspel means "God's news" instead of "good news". Ultimately, the word is a translation of Latin evangelium or bona annuntiatio (good news), which itself is a translation of Greek euangelion (good news).




USAGE:

"The No. 3 man [Rick Santorum] in the Senate leadership is hard at work spreading the GOP gospel. Will his crusades take him all the way to the White House?"

Howard Fineman & Andrew Romano; Mister Right;

Newsweek

(New York); Jan 3, 2005.

See more usage examples of

gospel

in Vocabulary.com's

dictionary

.




A THOUGHT FOR TODAY:

Courage is the price that life exacts for granting peace. The soul that knows it not, knows no release from little things. -Amelia Earhart, aviator (24 Jul 1897-1937)


We need your help

Help us continue to spread the magic of words to readers everywhere

Donate