Home
Jul 5, 2016
This week's theme
Words with initial silent letters
This week's words
knavery
wroth
knar
wrick
gnomic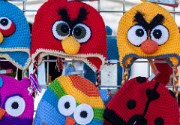 Wroth birds
---






A.Word.A.Day

with Anu Garg


wroth
PRONUNCIATION:
(roth)




MEANING:

adjective: Extremely angry.




ETYMOLOGY:

From Old English wrath. Ultimately from Indo-European root wer- (to turn or bend), which is also the progenitor of words such as wring, weird, writhe, worth, revert, and universe. Earliest documented use: 893.




USAGE:

"The fat man was so wroth that he took a vow to live on bread and wine till he had his vengeance."

George R. R. Martin;

A Dance with Dragons

; Bantam; 2011.

See more usage examples of

wroth

in Vocabulary.com's

dictionary

.




A THOUGHT FOR TODAY:

It's hard to be religious when certain people are never incinerated by bolts of lightning. -Bill Watterson, comic strip artist (b. 5 Jul 1958) [Calvin & Hobbes]


A.Word.A.Day by email:

Subscribe

"The most welcomed, most enduring piece of daily mass e-mail in cyberspace."