Home
Dec 18, 2014
This week's theme
Terms with apostrophes
This week's words
dog's chance
gentleman's agreement
cat's cradle
who's who
lion's share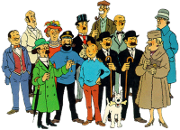 Who's Who of Tintin
Art: Hergé
---






A.Word.A.Day

with Anu Garg


who's who
PRONUNCIATION:
(hooz hoo)




MEANING:

noun
1. A reference work containing concise biographical sketches of well-known people.
2. Well-known people in a particular profession, region, etc.




ETYMOLOGY:

The first Who's Who was published in the UK in 1849. Now the term is in wider use and there are thousands of specialized Who's Whos publications, for high school students, for Nebraskans, and for the dead (Who Was Who). There's even a

Who's Who in Hell

. Earliest documented use of the generic use of the term is from 1917.




USAGE:

"When Ratko Mladic arrives at the international war crimes detention center in The Hague, he will join a who's who of accused genocidal dictators, warlords, and mass murderers."
Ivana Sekularac and Aaron Gray-Block; Dutch Seaside Cell Awaits Mladic; Reuters (New York); May 31, 2011.




A THOUGHT FOR TODAY:

Art should be like a holiday: something to give a man the opportunity to see things differently and to change his point of view. -Paul Klee, painter (1879-1940)


A.Word.A.Day by email:

Subscribe

"The most welcomed, most enduring piece of daily mass e-mail in cyberspace."