Home
Dec 19, 2014
This week's theme
Terms with apostrophes
This week's words
dog's chance
gentleman's agreement
cat's cradle
who's who
lion's share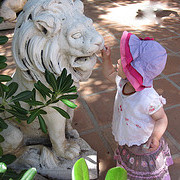 The lion's share
This week's comments
AWADmail 651
Next week's theme
Words from science that have different senses in everyday use
---






A.Word.A.Day

with Anu Garg


lion's share
PRONUNCIATION:
(LY-uhnz shair)




MEANING:

noun: The largest part of something.




ETYMOLOGY:

From the Aesop's fable in which the lion claimed all of the spoils instead of sharing with other animals who took part in the hunt. Earliest documented use: 1790.




USAGE:

"Enterprise, the largest firm, with about 40% of the world market ... in America it has the lion's share of the market for the cars that insurers lend to policyholders after crashes."
Hire Purpose; The Economist (London, UK); Sep 13, 2014.




A THOUGHT FOR TODAY:

And the evil is done in hopes that evil surrenders / But the deeds of the devil are burned too deep in the embers / And a world of hunger in vengeance will always remember. -Phil Ochs, folksinger (1940-1976)


A.Word.A.Day by email:

Subscribe

"The most welcomed, most enduring piece of daily mass e-mail in cyberspace."