Home
Feb 3, 2015
This week's theme
Words from the Bible
This week's words
nimrod
via dolorosa
scapegoat
gethsemane
samaritan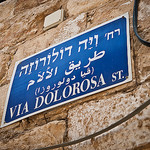 Via Dolorosa, Jerusalem
---






A.Word.A.Day

with Anu Garg


via dolorosa
PRONUNCIATION:
(VY/VEE-uh dol-uh-RO-suh)




MEANING:

noun: A distressing journey or experience.




ETYMOLOGY:

After the route believed to have been taken by Jesus on his way to Calvary. From Latin via dolorosa (painful path), from via (path) + dolor (pain). Earliest documented use: 1878.




USAGE:

"David Cameron must offer a vision of hope at the end of the Via Dolorosa we must tread for the next few years."
Max Hastings; The Ostrich Election; The Daily Mail (London, UK); Apr 9, 2010.




A THOUGHT FOR TODAY:

It takes a lot of time to be a genius, you have to sit around so much doing nothing, really doing nothing. -Gertrude Stein, novelist, poet, and playwright (3 Feb 1874-1946)


A.Word.A.Day by email:

Subscribe

"The most welcomed, most enduring piece of daily mass e-mail in cyberspace."