Home
Feb 5, 2015
This week's theme
Words from the Bible
This week's words
nimrod
via dolorosa
scapegoat
gethsemane
samaritan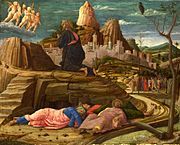 Agony in the Garden
Art: Andrea Mantegna, circa 1460
---






A.Word.A.Day

with Anu Garg


Gethsemane
PRONUNCIATION:
(geth-SEM-uh-nee)




MEANING:

noun: An instance or a place of suffering.




ETYMOLOGY:

In the New Testament, Gethsemane was a garden near the Mount of Olives in Jerusalem, and the scene of Jesus's agony and betrayal. Via Latin and Greek from Aramaic gat samne (oil press). Earliest documented use: 1901.




USAGE:

"She shared their troubles, and her courage and devotion provided a shield for them in the dark hours of their Gethsemane."
Maude D. Petre; Alfred Loisy; Cambridge University Press; 2014.




A THOUGHT FOR TODAY:

All progress has resulted from people who took unpopular positions. -Adlai Stevenson, governor, ambassador (5 Feb 1900-1965)


A.Word.A.Day by email:

Subscribe

"The most welcomed, most enduring piece of daily mass e-mail in cyberspace."