Home
Oct 20, 2015
This week's theme
Words derived from Dutch
This week's words
hogen-mogen
toenadering
poppycock
sooterkin
brabble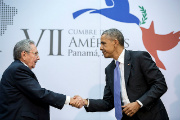 President Raúl Castro of Cuba and President Barack Obama
---






A.Word.A.Day

with Anu Garg


toenadering
PRONUNCIATION:
(TOO-nah-duhr-ing)




MEANING:

noun: Establishing or reestablishing of cordial relations, especially between nations.




ETYMOLOGY:

From Dutch toenadering (advance, approach), from toe (to) + nader (closer). Earliest documented use: 1920.




NOTES:

The term is typically seen in South Africa, but it's worth adopting everywhere. The French equivalent is

rapprochement

.




USAGE:

"The party and the labour federation may seem to be on the same page in opposing e-tolling, but don't hold your breath for a toenadering even on this front."
Cosatu and DA Lock Horns; The Argus (Cape Town, South Africa); Mar 17, 2012.




A THOUGHT FOR TODAY:

No man's credit is as good as his money. -E.W. Howe, novelist and editor (1853-1937)


A.Word.A.Day by email:

Subscribe

"The most welcomed, most enduring piece of daily mass e-mail in cyberspace."