Home
Oct 19, 2015
This week's theme
Words derived from Dutch
This week's words
hogen-mogen
toenadering
poppycock
sooterkin
brabble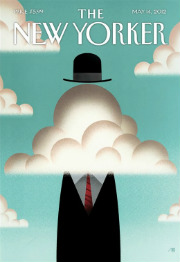 Art: Bob Staake
---






A.Word.A.Day

with Anu Garg

This past August I visited the Netherlands. I didn't bring back wooden clogs -- no one wears them any more, not even the Dutch. I didn't bring back the green stuff from Amsterdam -- I don't use it. This wasn't the tulip (from Persian dulband: turban, from the resemblance of the flower to a turban) season. But words are always in season, and I have brought back some unusual Dutch words that are now part of the English language.

Thousands of English words have their origin in Dutch, either directly or via other languages: beleaguer, cashier, scrabble, slipstream, wiseacre, for example. This week we'll look at some of the more colorful words that have come to us from Dutch.

Look for my travel reports from the trip in the weekly AWADmail for the next few weeks.
hogen-mogen
PRONUNCIATION:
(HOH-guhn-moh-guhn)




MEANING:

noun: A person having or affecting high power.
adjective: Powerful; grand.




ETYMOLOGY:

From Dutch hoogmogend (all powerful), from Hooge en Mogende (high and mighty), honorific for addressing States General (legislature) of the Netherlands. Earliest documented use: 1639.




USAGE:

"She's all grand hogen-mogen one minute and a flirting flibbergib the next."
Peter S. Beagle; Tamsin; Penguin; 1999.




A THOUGHT FOR TODAY:

A man of courage never needs weapons, but he may need bail. -Lewis Mumford, writer and philosopher (19 Oct 1895-1990)


A.Word.A.Day by email:

Subscribe

"The most welcomed, most enduring piece of daily mass e-mail in cyberspace."