Home
Jun 30, 2016
This week's theme
Color words derived from animals
This week's words
vermeil
teal
ponceau
taupe
sepia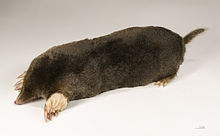 Photo: Didier Descouens
---






A.Word.A.Day

with Anu Garg


taupe
PRONUNCIATION:
(toap, rhymes with rope)




MEANING:

noun: A brownish gray, similar to the color of moleskin.
adjective: Of a brownish gray color.




ETYMOLOGY:

From French taupe (mole), from Latin talpa (mole). Earliest documented use: 1911.




USAGE:

"White and taupe are ideal for any space in which you wish to create a neutral palette or soothing atmosphere."

Cathy Hobbs; Clearing Up Gray Areas About the Use of White;

Orlando Sentinel

(Florida); Jun 18, 2016.

See more usage examples of

taupe

in Vocabulary.com's

dictionary

.




A THOUGHT FOR TODAY:

Not that I want to be a god or a hero. Just to change into a tree, grow for ages, not hurt anyone. -Czeslaw Milosz, poet and novelist (30 Jun 1911-2004)


A.Word.A.Day by email:

Subscribe

"The most welcomed, most enduring piece of daily mass e-mail in cyberspace."