Home
Jun 29, 2016
This week's theme
Color words derived from animals
This week's words
vermeil
teal
ponceau
taupe
sepia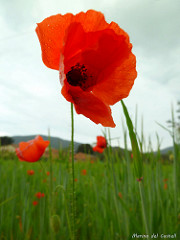 ---






A.Word.A.Day

with Anu Garg


ponceau
PRONUNCIATION:
(pon-SO)




MEANING:

noun: A bright red color.
adjective: Of bright red color.




ETYMOLOGY:

From Old French pouncel (poppy), diminutive of paon (peacock), from Latin pavo (peacock). Peacocks are not red, so why this word after a peacock? The poppy flower got this name because its vivid red color was compared to the bright colors of a peacock. A related word is

pavonine

. Earliest documented use: 1774.




USAGE:

"Eternal alliances which ordinarily terminate in a quarrel about the shade of a ponceau ribbon ..."
Ouida; Beatrice Boville and Other Stories; J.B. Lippincott Company; 1905.




A THOUGHT FOR TODAY:

Transport of the mails, transport of the human voice, transport of flickering pictures -- in this century, as in others, our highest accomplishments still have the single aim of bringing men together. -Antoine de Saint-Exupery, author and aviator (29 Jun 1900-1944)


A.Word.A.Day by email:

Subscribe

"The most welcomed, most enduring piece of daily mass e-mail in cyberspace."