Home
Apr 21, 2017
This week's theme
Well-traveled words
This week's words
cramoisy
kaput
lilac
alembic
talisman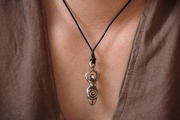 ---






A.Word.A.Day

with Anu Garg


talisman
PRONUNCIATION:
(TAL-is-man, -iz-)




MEANING:

noun:
1. An object, such as a stone, believed to have occult powers to keep evil away and bring good fortune to its wearer.
2. Anything that has magical powers and brings miraculous effects.




ETYMOLOGY:

From French or Spanish, from Arabic tilasm, from Greek telesma (consecration), from telein (to consecrate or complete), from telos (result). Ultimately from the Indo-European root k

w

el- (to revolve), which also gave us colony, cult, culture, cycle, cyclone, chakra, collar,

col

, and

accolade

. Earliest documented use: 1599.




USAGE:

"He'd clung to that round-eyed, happy-faced stuffed animal every night before he went to sleep like it was some kind of talisman that could force her to keep her word."

Sara Arden;

Finding Glory

; HQN Books; 2015.

See more usage examples of

talisman

in Vocabulary.com's

dictionary

.




A THOUGHT FOR TODAY:

Neither great poverty nor great riches will hear reason. -Henry Fielding, author (21 Apr 1707-1754)


A.Word.A.Day by email:

Subscribe

"The most welcomed, most enduring piece of daily mass e-mail in cyberspace."