Home
Apr 19, 2017
This week's theme
Well-traveled words
This week's words
cramoisy
kaput
lilac
alembic
talisman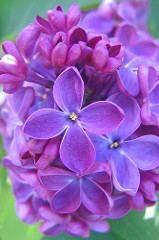 ---






A.Word.A.Day

with Anu Garg


lilac
PRONUNCIATION:
(LY-luhk, -lahk)




MEANING:

noun: 1. Pale purple color. 2. Any of various shrubs having violet, pink, or white flowers.
adjective: Of a pale purple color.




ETYMOLOGY:

From obsolete French lilac (in Modern French: lilas), from Spanish lilac, from Arabic lilak, from Persian lilak, from Sanskrit nil (blue). Earliest documented use: 1625.




USAGE:

"The lilac gown had darkened her eyes to that deep violet."

Carole Mortimer; Zachary Black; Mills & Boon; 2014.

See more usage examples of

lilac

in Vocabulary.com's

dictionary

.




A THOUGHT FOR TODAY:

There is a beauty in discovery. There is mathematics in music, a kinship of science and poetry in the description of nature, and exquisite form in a molecule. Attempts to place different disciplines in different camps are revealed as artificial in the face of the unity of knowledge. All literate men are sustained by the philosopher, the historian, the political analyst, the economist, the scientist, the poet, the artisan, and the musician. -Glenn T. Seaborg, scientist, Nobel laureate (19 Apr 1912-1999)


A.Word.A.Day by email:

Subscribe

"The most welcomed, most enduring piece of daily mass e-mail in cyberspace."