Home
Feb 9, 2017
This week's theme
Eponyms
This week's words
gnathonic
bovarism
Mrs. Grundy
struwwelpeter
gargantua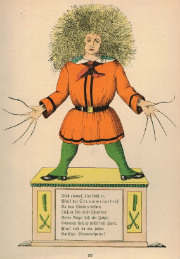 Struwwelpeter
Illustration: Heinrich Hoffman
---






A.Word.A.Day

with Anu Garg


Struwwelpeter
PRONUNCIATION:
(STROO-uhl-pee-tuhr)




MEANING:

noun: A person with long, thick, disheveled hair.




ETYMOLOGY:

From Struwwelpeter, the title character of the 1845 children's book Der Struwwelpeter (Shockheaded Peter) by Heinrich Hoffman. Earliest documented use: 1909.




USAGE:

"Einstein ... presented as a Struwwelpeter character, smiling from an aureole of almost electrified hair."
Ronald Clark; Einstein: The Life and Times; Bloomsbury; 2011.




A THOUGHT FOR TODAY:

My country, right or wrong; if right, to be kept right; and if wrong, to be set right. -Carl Schurz, revolutionary, statesman, and reformer (1829-1906)


A.Word.A.Day by email:

Subscribe

"The most welcomed, most enduring piece of daily mass e-mail in cyberspace."